About AMP Lab Projects Downloads Publications People Links
NetICE Project - FAQ
---
---
NetICE stands for Networked Intelligent Collaborative Environment. It tries to reproduce an actual conference setting, so that people can communicate from anywhere at any time and still feel that they are in the same environment without realizing the limitation of the physical network.

Top of this page
---
NetICE consists of 2 parts: NetICE Server and NetICE Clients.
NetICE Server is responsible for maintaining the state of the system and distributing the information to the NetICE Clients. It is running in our server. In order to connect to the NetICE Server from the NetICE Client, the IP address and the port number are required. The default values of the IP address is 128.2.130.52. and the port number is 100.
NetICE Client renders the 3D visual and 3D audio environment on the user terminal to provide "immersive environment".

Top of this page
---
You can connect to our NetICE Server by selecting Connection->Connect to Server from the NetICE Client menu. A configuration dialog box (as shown in the following) will pop up asking for the IP address and the port number. Use 128.2.130.52 as the IP address and 100 as the port number.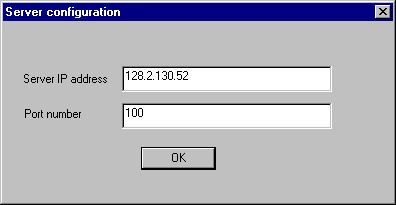 Top of this page
---
We have tested the NetICE Client to be working under both Windows 98, Windows 2000 and Windows NT

Top of this page
---
A duplex sound card and a microphone are required if the user wants to have a two-way conversation with other users.

Top of this page
---