About AMP Lab Projects Downloads Publications People Links
Project - 3D Reassembly

Worked in collaboration with Rahul Sukthankar and Mei Chen at Intel Research Pittsburgh.

Top of this page
3D reassembly, the problem of assembling a broken solid object given a collection of its parts, forms an important component of several real-world applications including molecular biology, archeology and spacecraft post-crash failure-analysis, scenarios for which are depicted below:


Top of this page
Despite its broad applicability, computer-aided 3D reassembly has been relatively under-explored by the computer vision community.
The figure below illustrates a typical instance of the problem where, given a large number of 3D parts, the goal is to identify those that could be assembled to form a previously unknown object (the cube).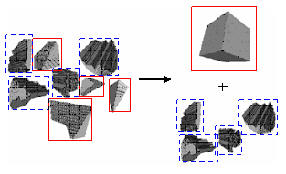 At the lowest level, a valid solution must ensure that adjacent parts are locally compatible. At a higher level, one may need to employ domain knowledge to select among multiple candidates that are compatible with a given part.
This work focuses on the former aspect and enables users to interactively specify higher-level preferences. We propose a feature-based approach to determine part compatibility in the context of an interactive 3D reassembly task.
For further details please refer to the publications below.

Top of this page
Talk (final summer internship presentation) at Intel Research Pittsburgh, September 2006.

Top of this page
Any suggestions or comments are welcome. Please send them to Devi Parikh.

Top of this page
---