---
Guo-Zhen Wang
Research Interests
Computer vision
Multimedial Signal Processing Architecture Design
Image and Video Signal Processing
3D Display and Interactive System Design
Low Power and High Image Quality Display System Desgin
Current Research
Glass Reflection Removal Algorithms for Video and Images
Advisor:Prof. Tsu-Han Chen.(IEEE Fellow)(David E. Burr Professor of Engineering, ECE Director)

When we take an image through a window, the glass reflects the light rays from the photographer side. Hence, the captured image is superposition of two images: a scene image beyond the window plus a reflected image before the window. We hope to propose some methods to remove the glass reflection by using video or stereo-images.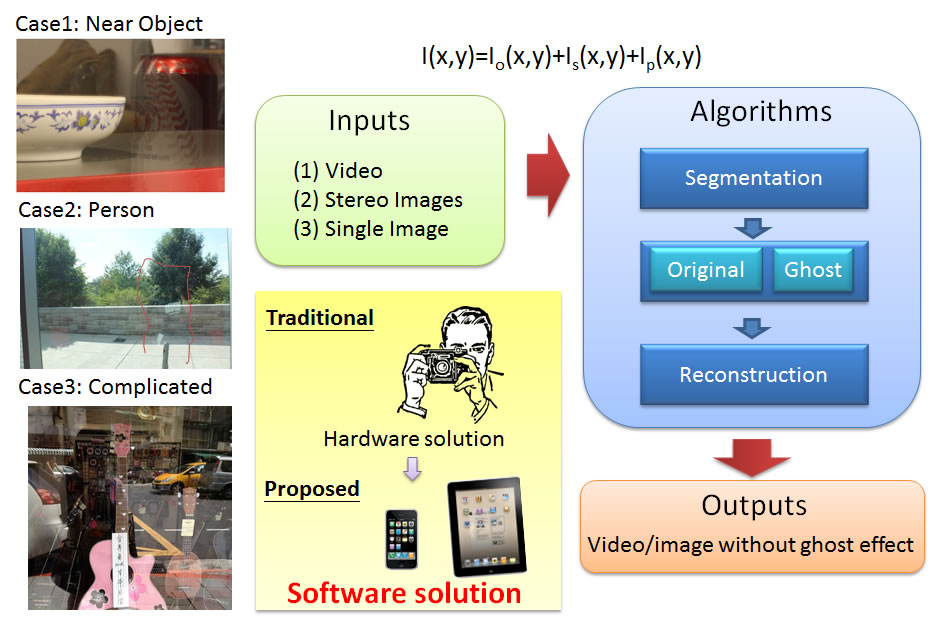 Past Research
Color Backlight Algorithms on High Dynamic Range Liquid Crystal Display Systems

Advisors: Prof. Han-Ping David Shieh (IEEE/OSA/SID Fellow) and Prof. Yi-Pai Huang
2008/07–2009/07: Industry and University Cooperation Program (with Raydium)
*Project- Eco Display Systems
2006/07-2008/07: Industry and University Cooperation Program (with AUO)
*Project- Develop Algorithms for HDR-LCD Systems (E.E. Design Dep.)
Low power and high image quality have become the major trend of display research in recent years. The contrast ratio of conventional liquid crystal display is limited to the full-on backlight system. Traditionally, the solution is to perform image processing in the low dynamic range display. High dynamic range displays were proposed by adopting the local dimming LED backlight system. Although, it can display high contrast images, but can not optimize power consumption and image quality. In this research, we proposed the two color backlight algorithms, DCA and SCC, by controlling R, G, and B LEDs individually to optimize the traditional high dynamic range displays. This method could improve the contrast ratio by reducing dark state and enhance color saturation by reducing the effect of light leakage. Besides, it could reduce more power consumption and keep image details.
This method has been demonstrated that color backlight algorithm implemented on a 37'' high dynamic range liquid crystal display (HDR-LCD) TV can yield contrast ratio of ~40,000:1 with clear image details. Furthermore, the color gamut can be enlarged to 125% of NTSC and reduced 50% power consumption compared to full-on backlight.


Proposed HDR-LCD System had been demonstrated on 2008 FPD Show.
3D Interactive Systems for Auto-stereoscopic Display

Advisors: Prof. Tian-Sheuan Chang and Prof. Yi-Pai Huang

2009/07 – 2011/07: Industry and University Cooperation Program (with AUO)
*Project- (Bared Finger Mode) Virtual Single/ Multi-Touched 3D Interactive System (Advanced Research Center Dep.)
*Project- (Light Pen Mode) Single/ Multi- Touched 3D Interactive System (E.E. Platform Dep.)
The traidational 3D interactive sysetm which uses CCD camera to capture image is difficult to operate on near range for mobile applications.Therefore, 3D interactive display with embedded optical sensor was proposed. Based on optical sensor based system, we proposed four different methods to support differenct functions. T mark algorithm can obtain 5-axis information (x ,y ,z,θ, and φ)of LED no matter where LED was vertical or inclined to panel and whatever it rotated. Sequential mark algorithm and color filter based algorithm can support mulit-user. Finally, bare finger touch system with sequential illuminator can achieve to interact with auto-stereoscopic images by bare finger. Furthermore, the proposed T mark algorithm has been demonstrated on 2010 FPD show in Tokyo.



3D Interactive System had been demonstrated on 2010 FPD show in Tokyo